Tesco launched scampi of Whitby Seafood…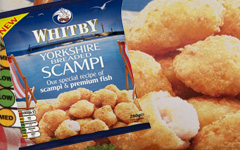 Whitby Seafood, introduced its new and affordable product which is scampi. It hit Tesco shelves. Related product is ready to meet the demand of scampi on time. Because according to Whitby Seafood, some consumers are still managing weekly food costs. That is the reason, Whitby Seafood launched scampi at the fishing port in Yorkshire.
Scampi is high quality and breaded product. It is featured at Tesco stores initially, after that it will be listed in another supermarkets.
Whitby Seafood is also introducing scampi with campaigns through social media such as twitter so that it can reach more people. (@whitbyseafoods)
Whitby Seafood is known its scampi product and also other product range such as fish cake, goujon etc… for UK retailers.