Turkish seabass at US market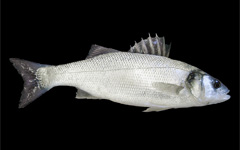 Seafood exports are increasing in Turkey day by day where is surrounded on three sides by the sea. Especially aquaculture products which are sea bass and sea bream are the prominent products of our country. Turkey, after Greece is the second largest producer of bass and bream.
The seafood export value of Turkey has been increased %88 to USA from January to August. Sea bass contributed to reach this succes.
According to Sinan Kızıltan who is Turkey Aquaculture Products and Animal Products Exporters Union Sector President, the export quantity is 410 mt to US at the first eight month of 2011. The total seafood export value is 2,9 million dollars. The quantity of seafood export is 564 mt and its value is 5,6 million dolar in 2012 compared to the same term last year. There is a striking difference between 2011 and 2012 in terms of quantity and revenue.
It can be seen that, there have been growing interest to the aquaculture products in US with the serious support of Turkey. Beside this, products will be more well known in the sector with the seafood exhibitions. Last year, total output of aquaculture sea bass and sea bream are 70,000 tonnes which increased 100,000 tonnes this year. The products are being exported more than 40 countries.
The total production of Greece was 118,000 mt last year. As a whole the supply which has benefited to the industry, is followed by Greece where is expected same quantity this year.
Both bass and bream were produced at the good quantities at Autumn season in Turkey. But in December, the prices will be rising against increasing demand and diminishing supply.
Mercamadrid wholesale market is important in Europe. In October, there is a drop for the prices of 600 gr. bass is 0,30Eur, for 600-1000 gr is 0,15 Eur. There is no movement for 1 kg+ bass. Average price of bass is 6,29EUR/kg. For the same period, bream price for 600 gr is 0,30 Eur, for 600gr-1000 gr 0,55 Eur, for 1 kg+ is 0,80 Eur are decreased. The average price of bream is 7,45 EUR/kg.
In conclusion, it can be appear negative that increasing demand affects the rising prices in Turkey, the prices can decrease in Europe. At this point, Turkey has to carry on increasing improvements and developments of export items. So the value added to the economy will be increased.