Iceland reacts to EU sanctions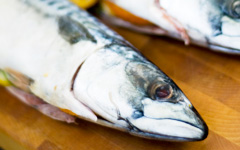 Mackerel Wars are getting more important nowadays. The wars were between Norway & EU in the past, but now Iceland and Faroe Islands participated to this war.
In the recent times, conspicuously, there is a collabration among EU and Norway and they are against Iceland & Faroe Islands. Therefore, we can mention that polarisation in the mackerel market between Norway&EU and Iceland&Faroe. Beside this, there has been made decisions to have an advantage against Iceland and Faroe Islands at the EU Parliament's negotations. EU also made the public call to the fishermen in order to increase catching.
Benedikt Jonsson who is Icelandic Embassy, made important statements regarding high level fish catching industry at the seminar in London.
Jonsson explained that Iceland adapted itself to find solutions to provide sustainability of mackerel stocks. Iceland will not obey the EU sanctions on this issue, said Jonsson.
Iceland accepted that they did not catch mackerel in big quantities until 2007 and they did not participate in negotiations until 2010, either. The amount of catching in 2005 is 363 mt, which increased 147.000mt in 2012. In the meantime, the mackerel catch of Faroe is increased from 27.830 mt to 149.000 mt in 2012. ICES recommended a mackerel TAC is 600.000 tons, for Norway the quota will be 181.085 mt and for the EU, it will be 396.468 mt that they made an agreement to share this rates.
Jonsson says that the EU and Norway decided to take %90 of TAC especially in 2011 and 2012, and they allocate %10 of the TAC. According to Norway and EU, Iceland and Faroe would like to get %50 of the TAC, which is irrational. The Icelandic and Faroe catch effect the market a lot. If this fish had been out of the market the prices would have been much higher. If the Icelandic and Faroe fish was not there, the prices would be nok 1-2 higher than today…
On this issue, Norway is near EU and against of Iceland's catching style without thinking of mackerel stock risks. Therefore, they believe in providing sustainability of mackerels.
Undoubtedly that this attitude of Iceland will be effected in a negative way for being a member of EU. It is so clear that Iceland will not be strong in the face of Norway and EU in terms of economical and political. As a result, this situation caused that mackerel will be caught more by EU and the prices will be increased. So it could be beginning of end!